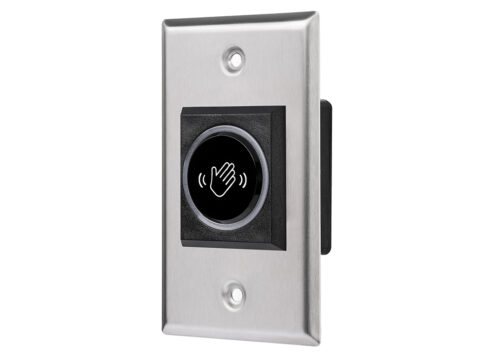 Illuminated NO TOUCH IR SWITCH
with stainless steel plate (mm) 114×70
114×40 and 86x86mm available if required
3A relay output
1 sec timer delay
10cm active distance (adjustable)
12 or 24 VAC/DC
These no touch IR switches are suitable for unlocking electrical locks, controlling automatic doors, parking systems, elevators or other applications. The switching takes place by passing the hand in front of the switches. Because there is no contact with the switches, it is a very simple and hygienic way of working.
The switches have a stainless steel front plate and house, a clear different color (red/green) display. Adjustable detecting distance and 1 second timer delay as long as hand is near to sensor.
It has different size stainless steel plate (mm) 86×86, 114×70 or 114×40.
Illuminated NO TOUCH IR SWITCH
Change-over Switch
COM/NO/NC CONTACT
12 or 24 VAC/DC
3A relay output
adjustable distance
RED/GREEN LED
Timer Relay: Fixed 1sec / as long as hand is near to sensor.
Current: less than 100mA
Active Distance: 10CM Factory default.
sensor life: 100K @ less than rated loaded current
Relay Type: Form C dry contact, 3A@24VDC
Response Time: 10mS
Operation Temp:-20 to +55 degree C
Terminal block: 5 wires
Stainless Steel gang (mm): 114×70
OEM logo/symbol printing available