These modern and beautiful euro exit buttons have illumunated stripe and 0.5A 125/250VAC NO/NC/COM contact, suitable for unlocking electrical locks, controlling automatic doors, the inter-lock systems.
Choice of white or silver version, other OEM color of wood grain, black, green are optional.
Design with built-in battery room, can be easily made suitable for wireless version if required.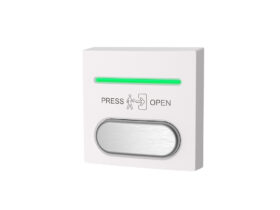 Euro exit button
Stainless steel button, white color
Illuminated LED display
COM/NO/NC CONTACT
0.5A 125/250VAC
INT/EXT Control
LED stripe: red/green or white/green
Plug & play terminals
12/24 VDC
SMB-S003 white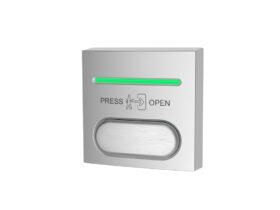 Euro exit button
Stainless steel button, silver color
Illuminated LED display
COM/NO/NC CONTACT
0.5A 125/250VAC
INT/EXT Control
LED stripe: red/green or white/green
Plug & play terminals
12/24 VDC
SMB-S003 silver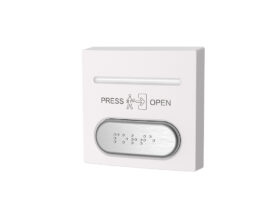 Euro exit button
Disable friendly with LED, buzzer & braille
Stainless steel button, white color
Illuminated LED display
COM/NO/NC CONTACT
0.5A 125/250VAC
INT/EXT Control
Buzzer ON/OFF switch
LED stripe: red/green or white/green
Plug & play terminals
12/24 VDC
SMB-S003SR