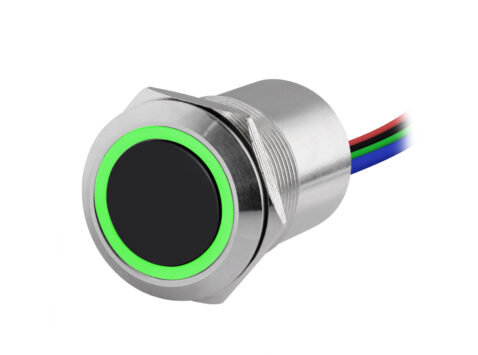 D22 illuminated no touch IR button
Dual color with red & white
Water-Proof Stainless Steel IR SWITCH
CMOS output: max 1A (Pulse)
Detecting Distance: 6-8cm
1 Second timer delay before active
24 VDC
These no touch IR switches are suitable for water dispenser, beverage machine, coffee machine. The switching is ON by the hands close to the switches with 1 second delay before active, and immediate OFF by the hands away. Because there is no contact with the switches, it is a very simple and hygienic way of working.
The switches have a stainless steel waterproof front head and house, a clear different color LED ring.
It has 1 sec timer delay before active and adjustable detecting distance, 6cm is factory default.
It has 4 color 18awg cables with 2 sides 4pin 2.54XH connector, easy to install with plug and play.
Illuminated Infrared Sensor Switch
Water-Proof Stainless Steel IR SWITCH
Vandal-Proof Change-Over Switch
24 VDC
Max operation Current: 45mA
CMOS output: max 1A (Pulse)
Output resistance: 22ohm
Detecting Distance: 6-8cm
1 Second timer delay before active
IP65 waterproof
Suitable for water dispenser, beverage machine, coffee machine.
LED color: dual color with red/white etc
Mechanical life: 5,000,000 times
Electric Life: 100,000 times.
Operating Temp: -25~+55℃
4 Color 18awg Cable 2 sides 4pin 2.54XH connector Output
Size: Ф22mm x 32.5mm