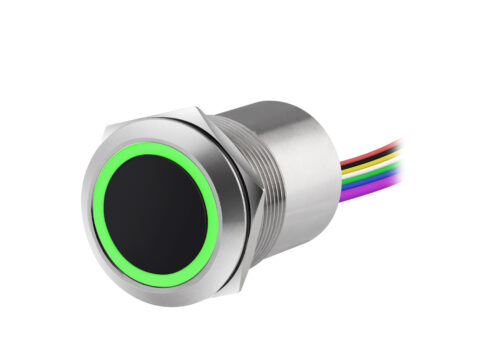 D19 illuminated no touch IR button
Water-proof stainless steel IR switch
LED ring: white/green
30VDC 2A
Buzzer alert on/off
0.5-60 seconds timer delay
Detecting Distance: 5-20cm
DC12-24V
These no touch IR switches are suitable for unlocking electrical locks, controlling automatic doors, parking systems, elevators and etc. The switching takes place by passing the hand in front of the switches. Since there is no contact required, it is a very simple and hygienic way of working, suitable for use in hospitals, clinics, labs, cleanrooms (to reduce the risk of contamination), schools, factories, or offices.
The switches have a stainless steel front plate and house, a clear different color (red/green, blue/green, white/green) LED ring with sounder alert so friendly to disable poeple use, and waterproof, so suitable for outdoor mounting.
Easily to fit different size(mm) plates: 86×86, 114×70 and customized size.
Illuminated no touch infrared sensor switch
Water-proof stainless steel IR button
Vandal-Proof Change-Over Switch
COM/NO/NC CONTACT
12-24 VDC
Buzzer on/off
Suitable for Electric Lock Use
White and green LED
0.5-60Seconds timer delay (Pulse)
Pulse/Toggle
Detecting Distance: 5-20cm
Working Current: Max 80mA.
IP65 Relay output: 30VDC 2A
Mechanical life: 50,000,000 times
Electric Life: 100,000 times.
Operating Temp: -25~+55℃
5 screws terminal block Output
Size: Ф19mm x 30mm