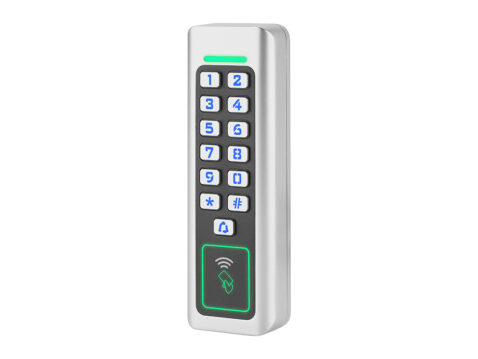 IP68 zinc-alloy two doors Mifare keypad
2 meter UL1007 AWG26
15 copper cores shield cable
AC/DC 12-24V
SMA-D001
A narrow, smart, beautiful vandal-proof and IP68 waterproof access control designed with an illuminated code panel and integrated MIFARE® card reader. The electric locking is released by entering the correct code or presenting a pass/key ring. Programming takes place via the code panel or via programming cards. In addition to unlocking electrical locks, it can also be used for other applications. Suitable for indoor and outdoor mounting.
KEYPAD & CARD READER (with 2 meter UL1007 AWG26, 15 copper cores shield cable)
– 2 relays to control 2 doors and supports up to 600 users, quick setting mode, fast installation & easy use
– 13,56MhZ Mifare Ultralight®, Mifare Classic® 1K/4K, Mifare® DESFire®, Mifare® DESFire® EV1
– 8 working mode with this device.
1. Wiegand Reader,
2. Standalone for single door,
3. standalone for two doors,
4. with external reader for two doors
5. two units interlocked for two doors,
6. Anti-passback for single door,
7. Anti-passback for two doors,
8.Master Reader.
– Pure Zinc alloy anti-vandal case;
– Pass Eraser/Adhesive/Salt-spay test with qualified coating protection
– waterproof conform to IP 68
– Build-in 13.56MHz card reader.
– Perfect digital backlight key,
– Backlight: Normal ON, Normal OFF or Human-Approach ON
– With Anti-duress Alarm function
– Add and delete card user quickly With Manager cards
– Can register and delete user via keypad
– Master can open the door when entering the setting status
– Multi working modes: reader, one door, two doors, interlock, anti-passback etc
– RFID Symbol backlight/reader"