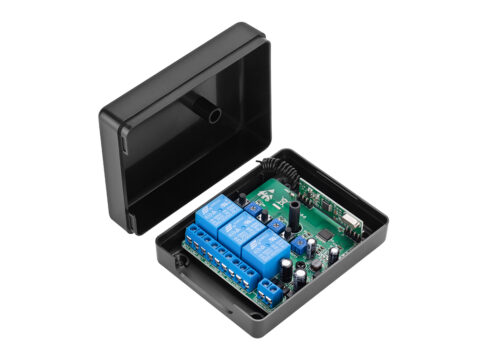 3 independent channel
hopping code receiver
Each relay output: 10A 30VDC
With 3 independent time setting
12V-24V AC/DC
Remote Distance (open space) 100M
(fit with SMB-T009)
These easy-to-operate and programmable wireless receivers are suitable for switching electric locks, automatic doors or other applications. 3 channels with 3 relays of the receiver are independent and can be programmed together and each has its own time setting (0.5 – 60 sec.) with a continuous or pulse contact. The code transfer is rolling so it varies with each transmit pulse.
Easy to program
Receiver relays are independent and programmable
Frequency 433.92MHz
3 relays (up to 24 transmitters can be programmed per relay)
3 relays have their own time setting (0.5 – 60 sec.) with a continuous or pulse contact
With make and break contact
Suitable for 12-24V AC/DC
Operating temperature -20˚C to 60˚C
Receiver:
Operating Volt 12V-24V AC/DC
Operating current(activated)<150mA @12V (3replay output activated) Operating Current(Static)<10mA @12V (no relay output activated) Frequency 433.92MHz Working temperature: -20℃-+60℃ Number of Channels : 3 independent relays output Each Channel working mode :PULSE/TOGGLE Each channel timer delay: 0.5S-60S (PULSE) Each Channel capacity: 24 users (Max) Relay output : 10A 30 VDC Size 96*74*34.5mm Weight 110g Remote control distance: 100M (to match SMB-T009)(open space) LED display: LOW BATT Red LED:ON >>Remote Low batty indicated in the last received signal
POWER Green LED: ON >> Power supply is working normally
All Channels Green LED:ON >>Learning status (30 seconds without action, automatically exit or press the learning button to exit)
FLASH 1 time >>Button Leaning successfully
FLASH 3 times >> Clearing memories
ON >>Relay output activated