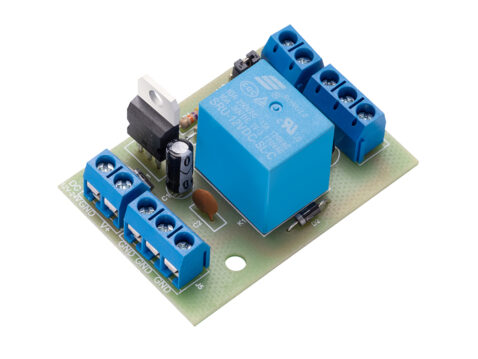 Fire alarm board
10A 30VDC relay output
Control terminal trigger
NO/NC jumper
12V-24V DC
Handy and compact PCB with a 10 ampere relay for, for example, switching off the power supply to the electric lock via a contact of the fire alarm system. This fire alarm board is suitable for 12/24V DC and is equipped with a make or break contact.
With this print it is possible to interrupt the power supply that runs from the 12V or 24VDC power supply to the connected
installation in the event of an emergency.
– The output voltage is the same as the input voltage.
– There are 3 outputs that together can switch a maximum of 10 Amps at 12V and 24V DC
– With the jumper NO-NC you can set whether the output voltage is interrupted with NO or an NC contact on the trigger input
Working Volt: 12V-24V DC
Working Current: <30mA @12V <35mA @24V
Standby Current: <5mA @12V <5mA @24V
Working Temperature -20℃-+60℃
Numbers of Relay output 1
Relay output : 10A 30VDC
Dimensions: 57*40*25mm
Weight 50g
Accessories: 2 pcs PCB 3M HOLDER
Pack: inner PCB layer + white box
. Input terminals:Input power 12V-24V DC.
. Output Terminals: V+ & GND,3 terminals for each, total 6 terminals
. Trigger terminal:Trigger and control the relay outputs,usually connect with external switch
. NO/NC JUMPER:Users can select the module's relay output in NO or NC status.